SeaWalk Tairubber 72S
Lure: 30~100g (Tairubber)
Line: PE 0.4~0.8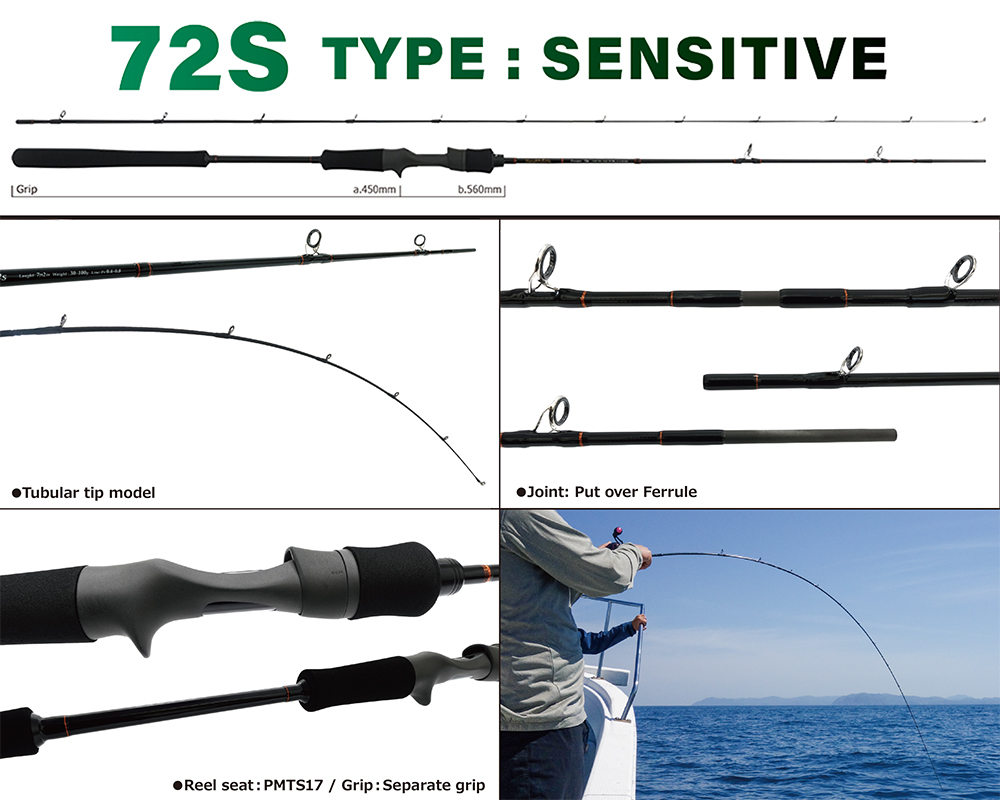 『SeaWalk Tairubber 72S (Sensitive) - This is a super sensitive model built with a flexible and highly sensitive tip to sense out the most minute bites.』

This is the sensitive Tairubber model packed with our expertise and knowledge from producing light game rods. It has the most flexible tip section of the series and its outstanding sensitivity will allow anglers to successfully hook up the slightest of bites. The delicate tip will transmit the vital information of the current and slightest nibbles from the fish through the sensitive blank and successfully lead to a hookup.
This model will become your biggest asset in situations where the fish are reluctant to take a proper bite when the boat is barely drifting and the flow of the current is super weak.
【Spec】
■Length:2185mm ■Closed Length:1118mm ■Weight:100g
■Section:2pcs(Put over Ferrule) ■Carbon:92.3%
■Guide:SiC-S Stainless frame K Guide(Fuji)
■Reel Seat:PMTS17(Fuji)
■Grip:a.450mm / b.560mm

●Target:Red Sea Bream
●Depth:about 20-80m
●Lure:Tairubber
●Suitable reel size:Daiwa #100~200 / Shimano #100~200

※Sizes of rod a. Length from reel foot to end of grip when reel is equipped. b. Whole length of grip.
※Price: Please contact to our agent in your country or nearest country