BaronKnight(2021年生産終了)
Discontinued product / 生産終了品 Series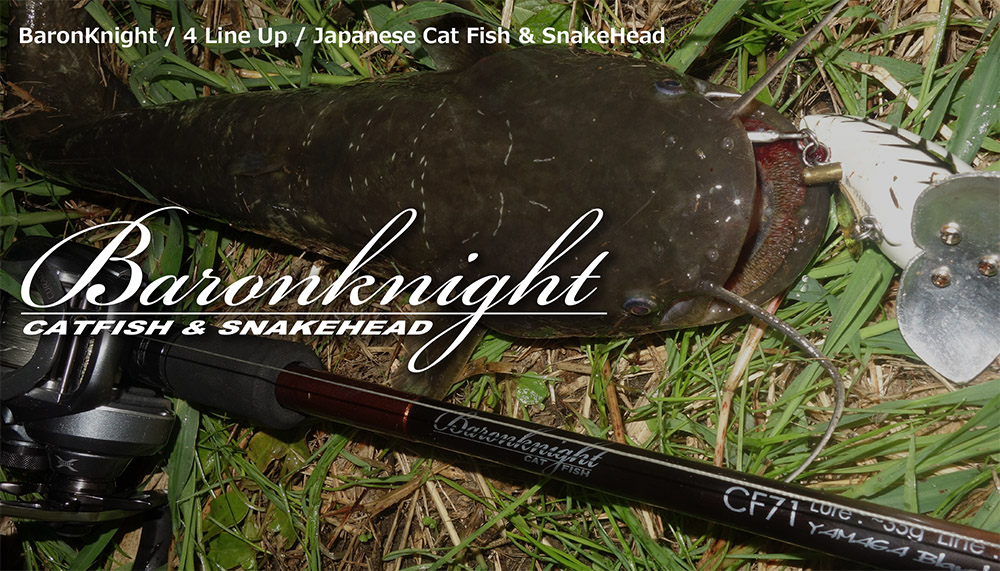 BaronKnight Bending Curve
BaronKnight CF / Cat-Fish
Aiming Catfish…it is getting popular these days. It is very easy to approach the field of catfish here in Japan but once you have tried to catch them, most of anglers will feel that you are required experiences and knowledges to hook up as you have planned. Blanks of these two Baronknight which are made of carbon prepreg have been loaded accumulated knowledges to develop rods for salt water and experiences of fighting with various kind of target. Thanks to the characteristics of blanks made of carbon, Baronknight 66 and 71 have achieved nice and sharp casting feel and high accuracy without losing flexibility and sensitivity on tip section to increase the chance of hooking up. High response of these blanks enable anglers to start manipulating lure as soon as touched water even in the dark or on low light situations and you can lure the target out and hook them up as you have planned. Moderate strain on the belly section will help you to set hook on surely and massive power on the butt section guaranty you to keep huge catfish under control. We have loaded everything we have as such as obsessiveness with blanks made of carbon, accumulated know-how from big game fishing on salt water and basic philosophy for fishing rod of YAMAGA Blanks on Baronknight CF series.

BaronKnight SH / Snake Head
The field for snakehead where is covered by weed on surface is getting limited recent year here in Japan. Because of this fact, snakehead have been put lots of pressures on and becoming so spooky, so snakehead won't take lure aggressively very much. For that reason, we have designed Baronknight series to pursue accuracy of cast and high operability to adjust the sensitive snakehead game on recent year.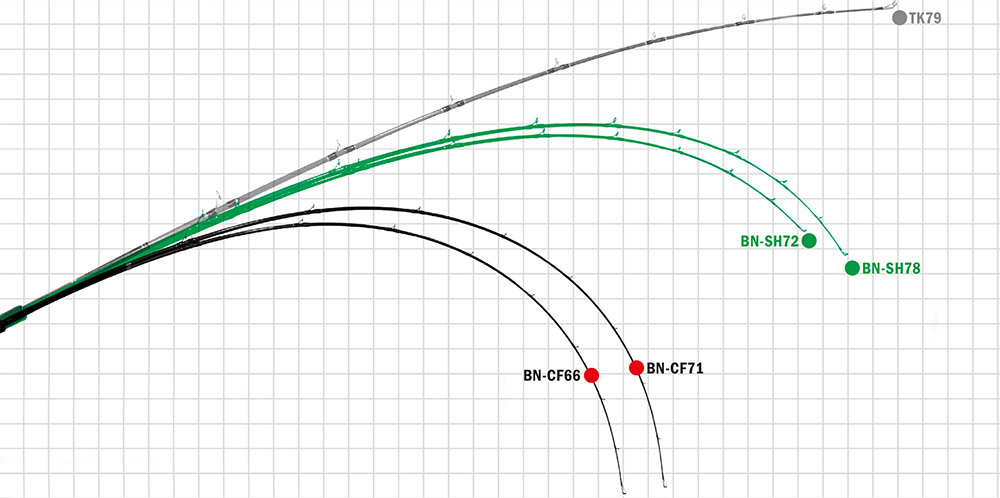 BaronKnight Comparison (Load 1kg)
These are comparison images of Baronknight series and TAKO KING which are loaded 1kg weight on tip.As you can see from this chart, TAKO KING is not bent much with 1kg load. Baronknight snakehead have almost same power on blanks. Although SH72 is basic model, SH78 will be recommended if you need to cast long distance. CF66 is more flexible to handle easier than CF71. If you prefer sharper feeling when you cast and make action, CF71 is recommended. Yet both CF66 and CF71 are bent well, employed huge power on both of butt section.

※These images are not illustrated on the full potential or characteristics of rods. Please understand that these pictures are taken under the limited situation, it was loaded with weight on rods gentry.