Summer 2018 New "SeaWalk Light-Jigging" series      English Commentary Vol 1
"Light-Jigging" model from SeaWalk series will be launched on early summer 2018.
Actually all of SeaWalk series are designed as "Light-Jigging rods" to fish in various method with
finer lineas such as Tai-rubber, Tai-jigging or Hair tail-jigging.
To adjust and follow the advancement of performance of jig and line,
we have developed this "Light-Jigging" series additionally.
■Concept
Recently, fine line become much finer while keeping durability and toughness.
Material of metal jig also have been developed and many advanced models
such as Tungsten-jig have been released these days.
That is why we become available to aim fish such as Grunt
which was too hard to catch intentionally doesn't matter shallow or deep water.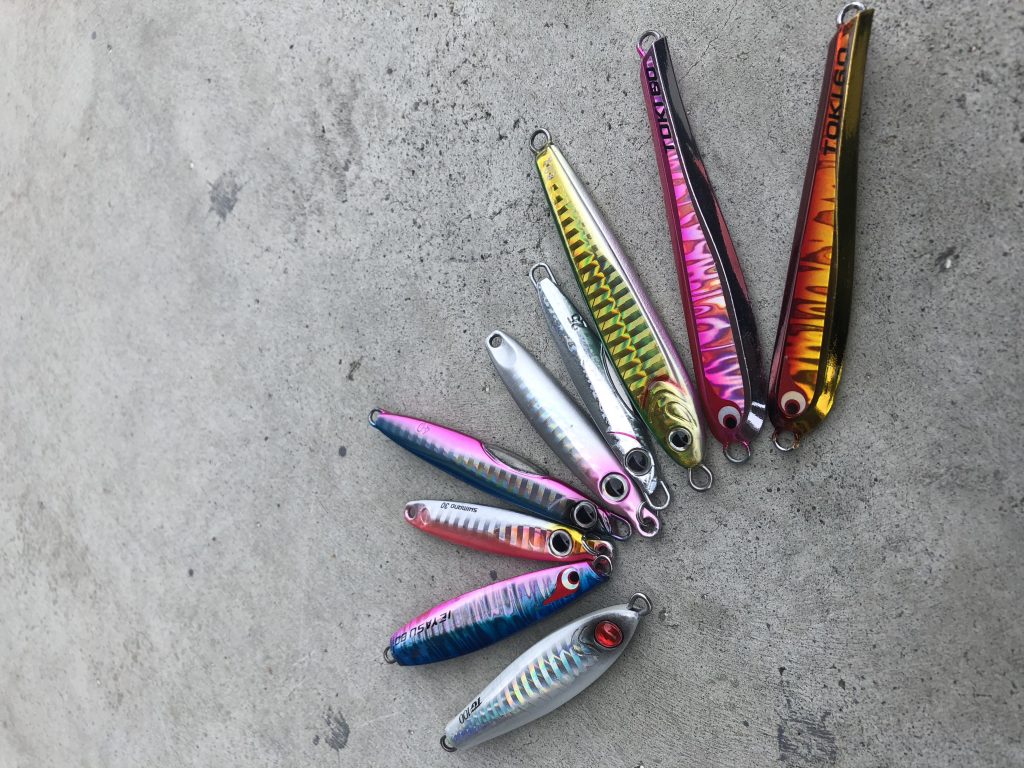 We have set 3 concept when we started developing this "Light-Jigging" series.
First of all, we have designed tip section become nice and flexible
while remaining moderate repulsive force to let jig swim naturally without any stress.
Secondly, we have employed moderate stiffness and power to sense slightly changes of current
and vital information.
Thirdly, we have loaded enough power on butt section to keep huge fish under control.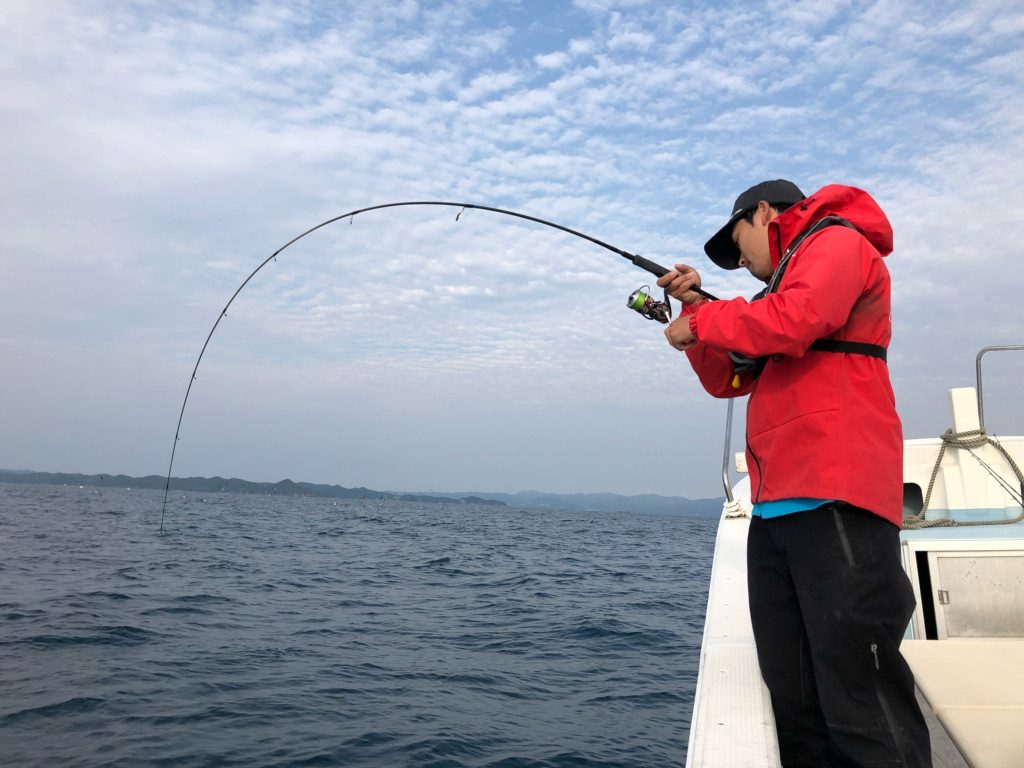 ■Line up
We have 3kind of spinning and overhead models to be adjusted depth of water,
target and situations.
You can aim not only Grunt, blue runner, rock fish, sea bream or hair tail on inshore
but also fish bigger than you expected
or other kind of fish with these 6 models systematically.
SeaWalk Light-Jigging Line Up
67UL / Spinning Model   Jig:15~40g  Cast:MAX25g  Line:Pe0.4~0.8
64L / Spinning Model   Jig:30g~80g  Cast:MAX35g  Line:Pe0.6~1.0
64ML / Spinning Model  Jig:60g~120g  Cast:MAX50g  Line:Pe0.6~1.2
66L / Overhead Model  Jig:40~80g Line:Pe0.6~1.0
66ML / Overhead Model   Jig:40~120g  Line:Pe0.8~1.2
65M / Overhead Model   Jig:60~150g     Line:Pe0.8~1.5
If you combine with rod, jig and line strategically, these 6models will be enable you to aim various target on various situations.
For example, these are good to be use for light trevally game on shallow water in south,
or light jigging for cherry salmon in north.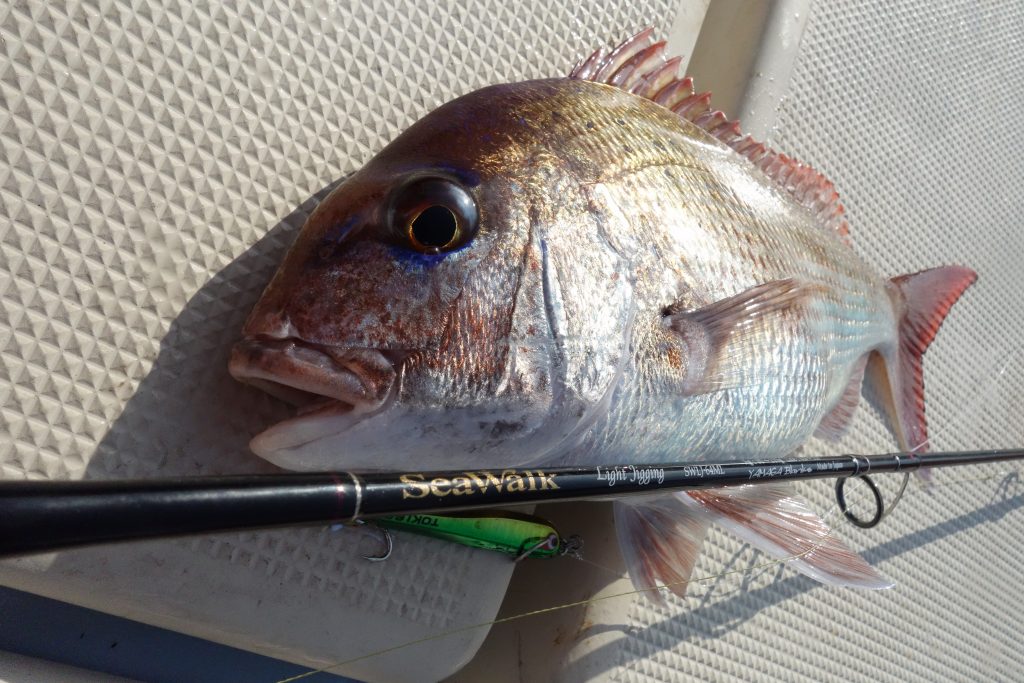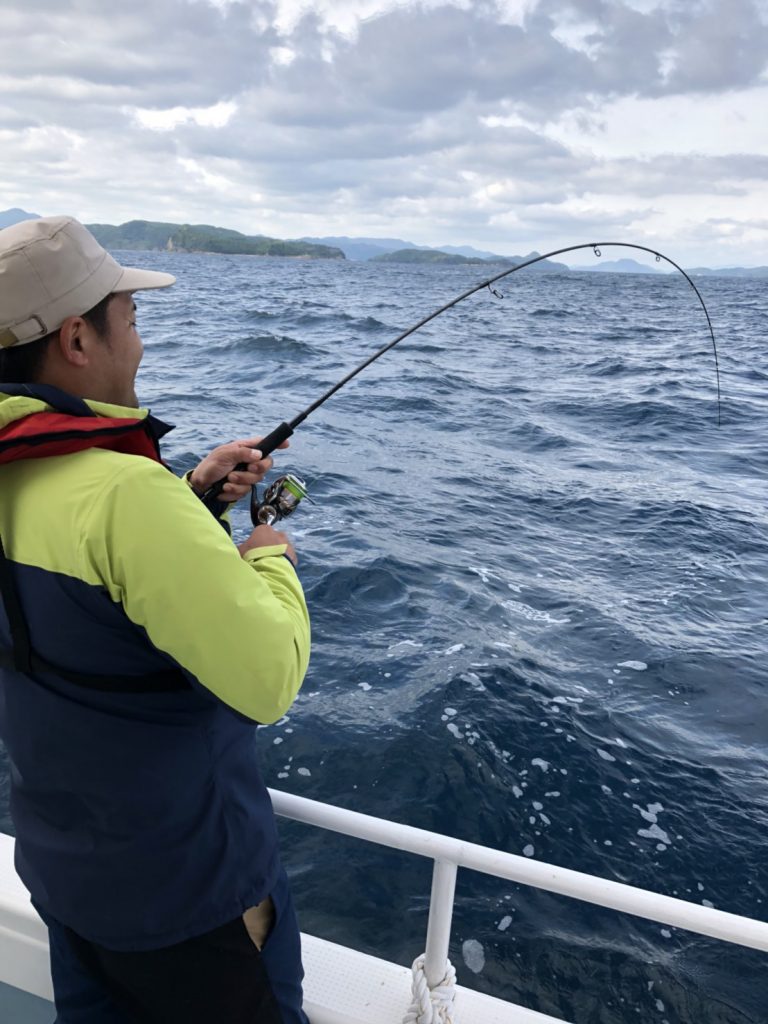 Overhead models are designed to have both ability of manipulation of jig and high sensitiveness to strike aggressively or fish in deep area(80m~100m depth) on Tairubber game.
In consideration of portability, we have finished all of these grip joint style.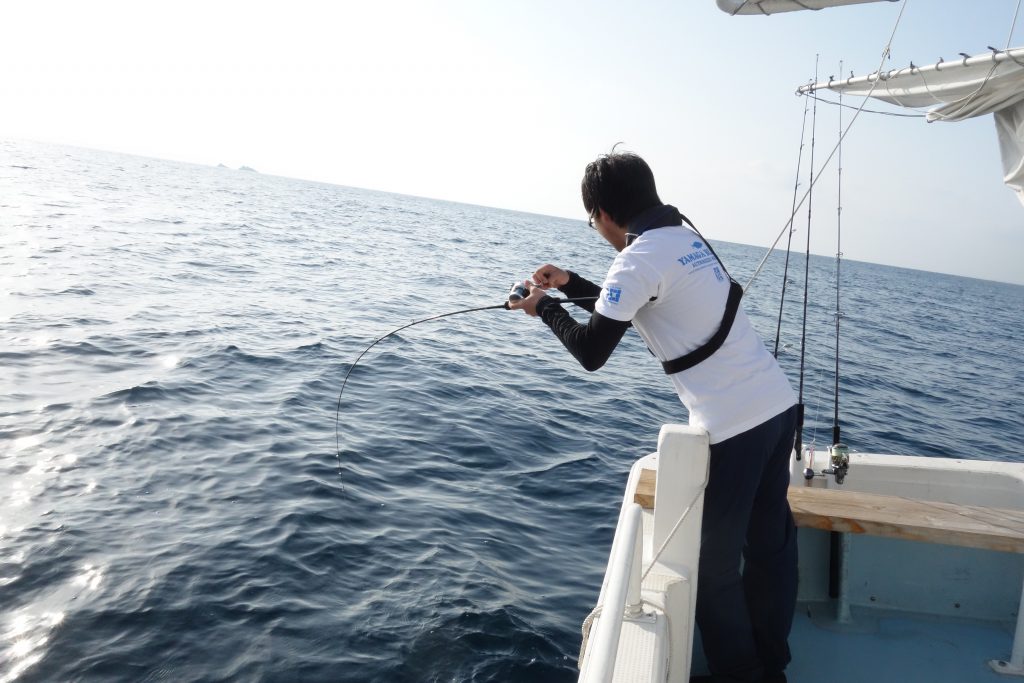 ■Comparison of Light-Jigging with Taijigging
Although we have already have line up of "Taijigging" series, "Light-Jigging" series are
totally different from those in action.
"Light-Jigging" series have been employed little stiffer tip and belly section than "Tai jigging" series to let you set hook on aggressively.
And it has high sensitivity to sense slightly changes of current and high handleability
to let jig swim more naturally than you wish.
It is also easier to handle and cast with underhand when you wish to search with wide range
thanks to the rear grip that have been designed shorter than "Tai jigging" series.
You can jerk easily even if you hold end off grip under your arm or not.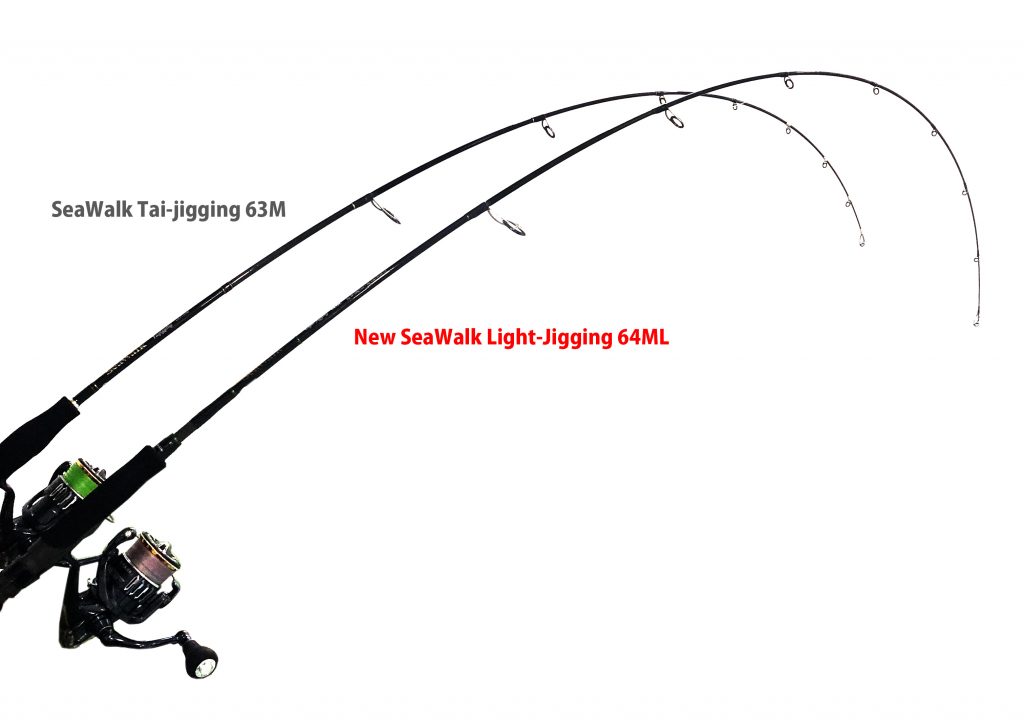 (500g of weight is loaded)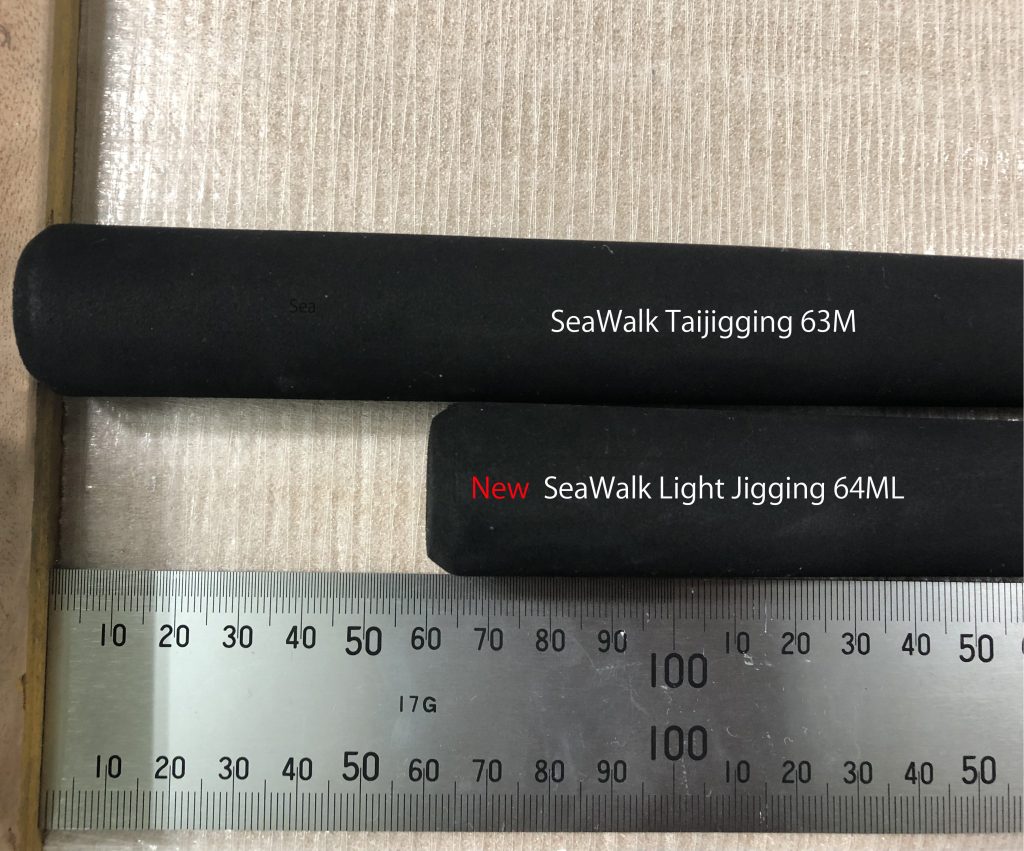 Taijigging 63M   (Measurement: a 460mm)
Light Jigging 64ML  (Measurement:a 400mm)
(Measurement:a  ・・・Length from reel foot to end of grip)
Of course "Taijigging" series have been specialized for Red sea bream.
So we hope that you choose best one depend on your target and style.
The remarkable characteristics of "Light-Jigging" series are tip section with flexibility, belly section with moderate stiffness to let Jig swim naturally
and butt section with enough power to keep fish bigger than you expected under control.
Even 67UL will enable anglers to fight with huge red sea bream such as over 80cm
and keep it under control without losing initiative.
Although power spec have been set depend on the weight of jig, all of "Light-Jigging" series have potential of power as we have explained about 67UL.
We recommend you to choose one depend on weight of jig that you use.
Next, we are going to introduce "Light-Jigging" spinning models.