YAMAGA Blanks 88 CHAIN
VERSATILE Series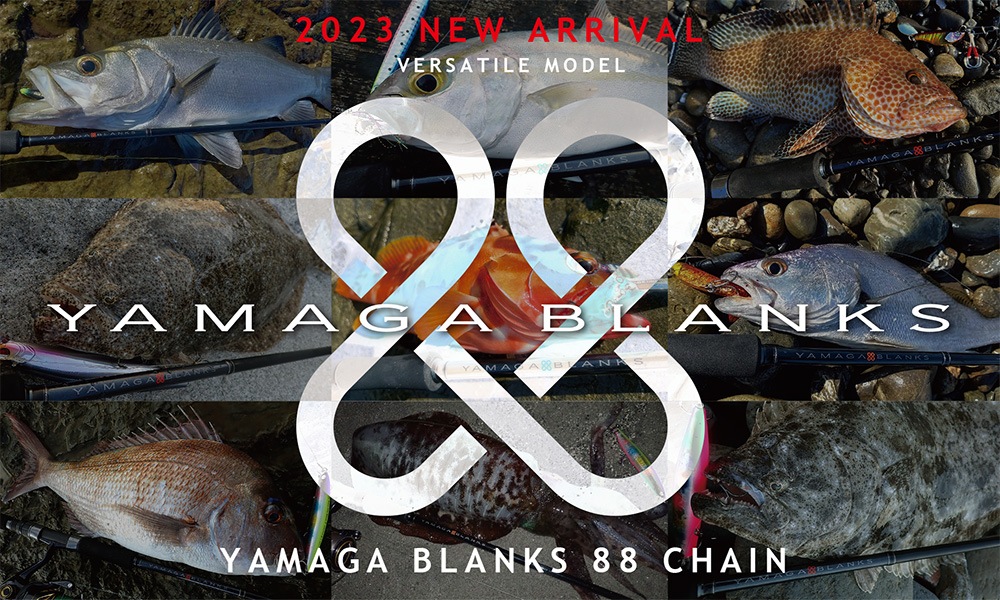 Let's connect the different fishing grounds.
We are approaching the 15th year anniversary of Yamaga Blanks and for the first time, releasing this special "one of a kind" rod. This model is built up through the compilation of our techniques over the years. It is a "chain" connecting our past experience with our future goals.
Our developmental concept was to create a "high-performance spare-rod capable of connecting different fields". This project was triggered when we were targeting blue-runners off the rocks. Utilizing strong PE4~8 line, powerful rods, large reels and heavy lures to target blue-runners off the rocks, we needed a break from casting with the heavy setup. We wanted to go after smaller by-catches for a little break. With the vast variety of subspecies - including rock-fish, squid and black fin seabass – it meant that we would need to take that many different types of rods. This was the beginning of the journey to create the ultimate "spare-rod" able to go after various sub-targets.
There were many twists and turns during the testing of the rod to achieve the high-spec characteristics required for such a concept. Initially created as a "spare rod" for rocky land-based fishing, through rigorous testing and pursuit for greatness, it soon became a rod capable of connecting different fields (break-water, river mouths, ports and the vast surf). Basically, a rod you want to take everywhere.
We are proud to release to the anglers around the world this unique rod developed through the state of the art design and technology of Yamaga Blanks, capable of handling the high drag of the newest reels on the market and high-spec PE lines to go after various species.
This rod is a "lone wolf" and does not belong to any of the existing series.
It is the materialization of our concept. Connecting our past to the future and linking different fields together. With these hopes and dreams, we have named it "Yamaga Blanks 88 Chain".
While pursuing your main target with your main rod, the YB 88 Chain will allow anglers to further enjoy the day in the field. We hope you can enjoy our pride and joy in this product.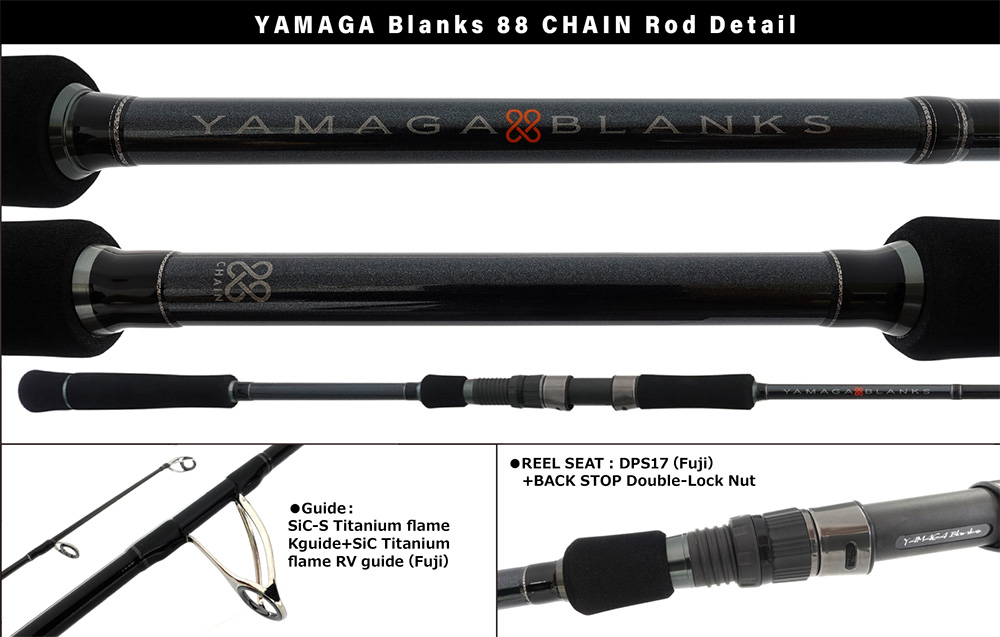 YAMAGA Blanks 88 CHAIN

Lure: 8~40g

Line: PE 0.8~2