Calista
Eging Series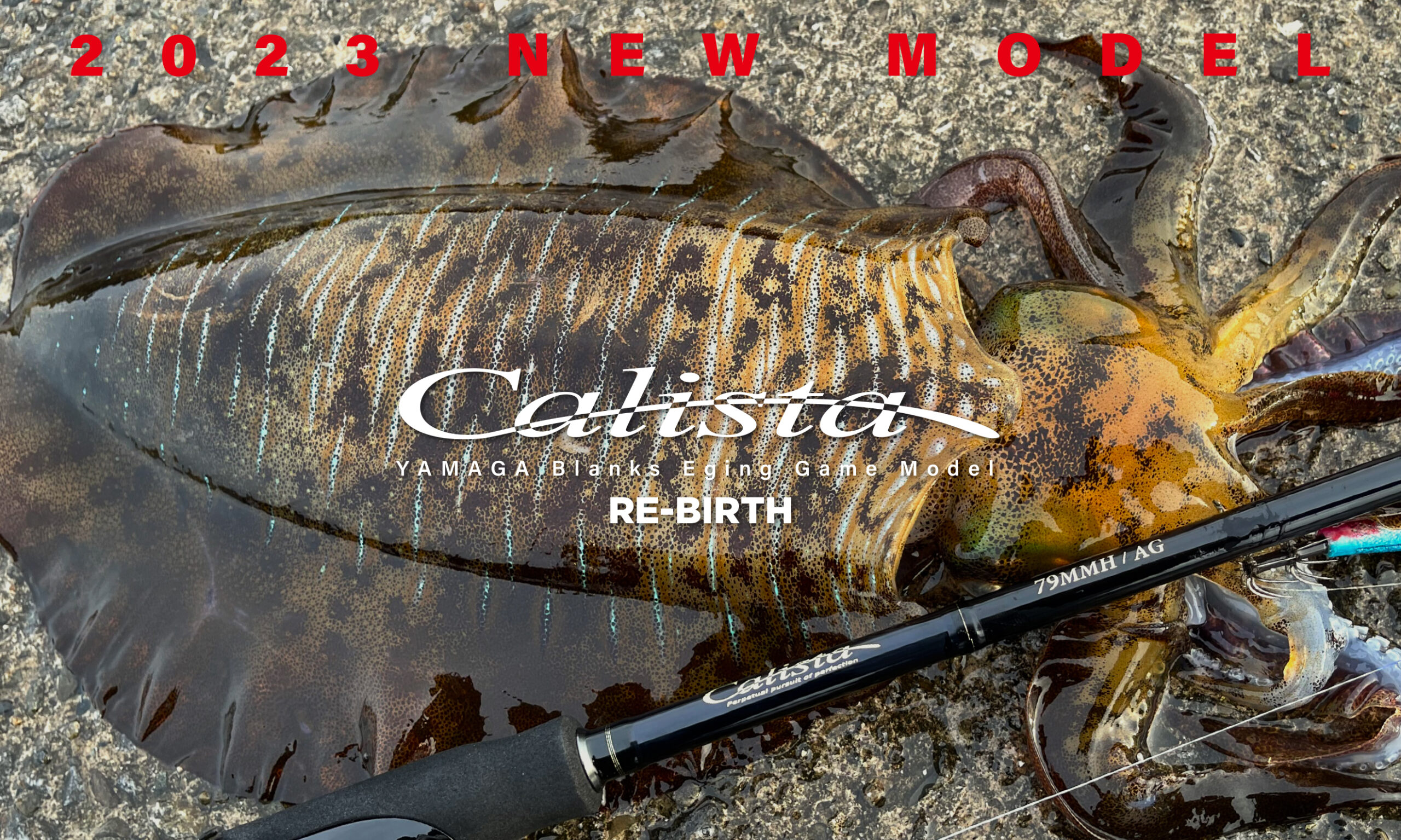 Going back to the drawing board to reconstruct the "Calista".
Since the release of the first model of the Calista in 2013 and through its history of updates, the lightness and easy handling of the Calista series have been loved by many anglers around the world.
As of 2023, our whole lineup will be updated. In the current subdivided squid fishing scene, there are various techniques and the skill of individual anglers have drastically improved. There is one simple reason why we have embarked on the renewal of the series. It is none other than the fact that we want anglers to have the lightest, most responsive and absolute castability of what we have to offer with the current given technology.
For the new "Calista", it goes without saying that we have utilized the latest carbon material, but we have also challenged the limits of blank structural designs. All models will be equipped with a high level of standard performance for every angler to be able to express their techniques to the fullest.
While maintaining the original concept of "easy and long distance casting", each individual model has been honed to express the values of the new blank.
The new Calista series have been rebuilt from the start and it is the crown of our manufacturing techniques and efforts. Its more than a "renewal" or a "new model", it's the "Origin of Calista".
As a blank manufacturer, there is no better challenge than creating this totally new Calista series for the squiding scene.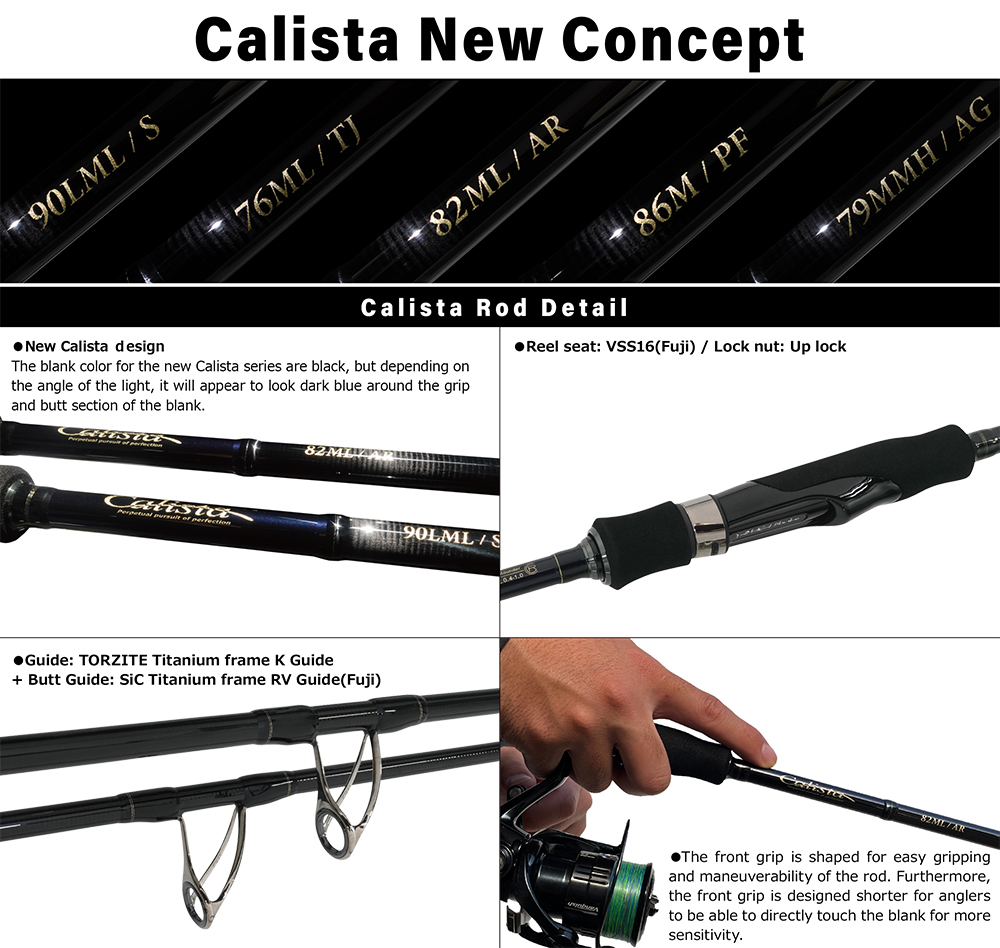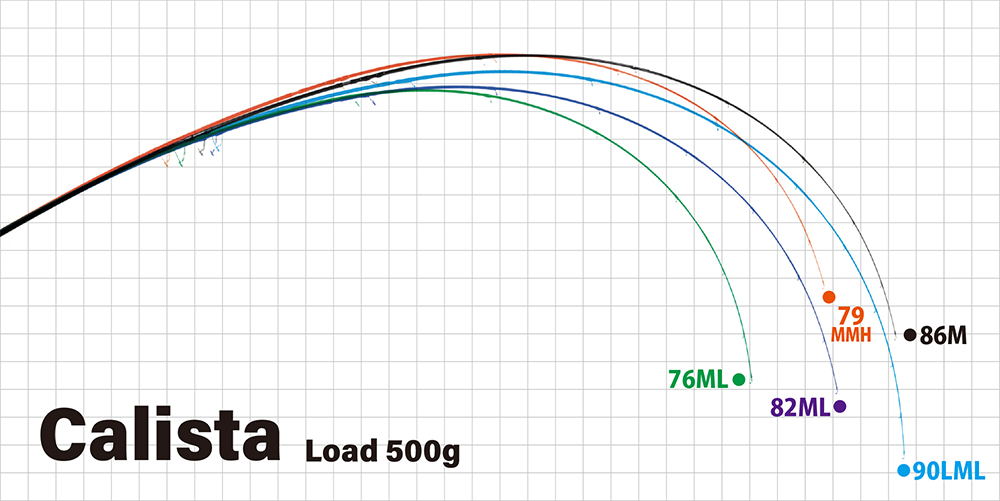 Calista Bending Curve Load 500g
●Here are pictures representing the bending curve of the new Calista series with a static load of 500g. We have especially focused on the length and blank individuality of each model for the lineup of the new Calista series.
●The concept for the Calista series is the importance of "castability and responsiveness", while possessing the ability to lightly control the squid jig with ease. For the reconstruction of the series, we have refined these qualities.
●Anglers will be able to experience the lightness of the next generation blanks in 3 different lengths (short, medium and long lengths) of the main ML class rods.
●The classic 86M has succeeded the power of the previous model yet totally redesigning the blank to further reduce the stress on the angler.
● The new 79MH in the MH class is equipped with outstanding butt power while having a flexible M class tip section, making anglers feel like s/he is controlling a light M class rod. *the bending curve comparison is photographed with the line set through the guides with the reel attached.