【2023 New Model】SeaWalk Cast Jigging ~Characteristic~

A New Lineup "Cast Jigging" has been created in the Yamaga Blanks Boat Light Game Series "SeaWalk"!
Two new models that specialize in a wide range of fishing styles through casting!

【Rod length & grip specification】
●Coming in at 7ft + the latest addition of the seawalk is easy to handle on most boat sizes!
●Designed with the principle of leverage in mind, the latest Seawalk is able to launch out lures with both overhead cast and undercast methods.
●Equipped with a long grip for prolonged fights and more technical jigging methods

【Blank Performance & Specification】
●Featuring a blank that performs well during low-speed and high-speed retrieves with a tip that imparts natural action.
●A flexible tip helps to produce a natural action and stabilize the jig when swimming through the current.
●Gradual power increase designed in the blank to help prevent unwanted line cuts and hook throws.
【SeaWalk Cast Jigging Swim & Skip 71ML】
Delicate Tip and midsection!
The basic model for water depths of 20m with 40g
Lure: Cast Weight Max40g(Under Cast: Max60g)
Line: Max PE 1.5
【SeaWalk Cast Jigging Swim & Skip 73M】
Wide Range of use with a maximum jig weight of 80g!
Also good at luring action-oriented!
Lure: Cast Weight Max60g(Under Cast: Max80g)
Line: Max PE 2.0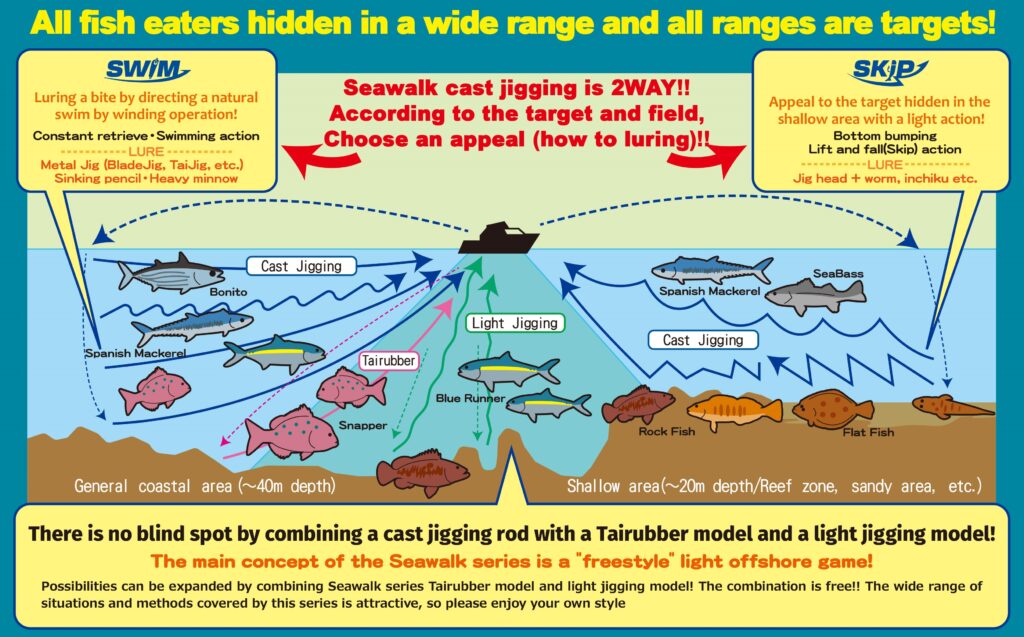 If you need more information, please check the following video
【English Commentary】"SeaWalk Cast Jigging Swim & Skip – Fishing Style & Recommend Lures
↓ ↓ ↓ ↓ ↓ ↓ ↓ ↓
Release on Oct.1st.2023!!